real stories
My food journey really began once I had children. Although I watched my nutrition when I was pregnant, and have always eaten healthily, I really began to become conscious of what I was feeding my children. Although we ate well at home, I found I was giving them "treats" while we were out, and this could occur most days of the week. Most people wouldn't think this is an issue, however I also had my stash of Chocolate at home, which I would dip into daily, and then found I was sharing with the kids on a daily basis also.
Things came to a head when I went to my first Pink Farming workshop. Although it was primarily about gut health, the girls also gave a general overview of their own food journey's and how they got to where they were. Pinky told us of her own sugar addiction, and as I sat there listening to her, I had a pivotal light bulb moment where I could totally relate to her story, and realised that it was up to me to stop this cycle of bad food habits which I felt was infiltrating my children's lives.
I left their talk determined and excited about making some changes. Ironically my sister had bought me Sarah Wilson's "I Quit Sugar for Life" book. So I sat down and read it, and changed my life!!! I strongly believe that a lifestyle change is all about arming yourself with as much information as possible, taking what works for you, and mixing it all together. The Pink Farming workshops have been a constant source of education, information and most importantly, a never ending message of positivity and support for those of us on our food journey. I've now quit sugar for 12months. That's not to say our family doesn't enjoy the odd treat now and then, however our everyday diet does not include any sugar. (P.S. this may not sound like much, but I challenge you to read the ingredients of all the products you have in your pantry, and place every item that has sugar (IN ALL IT"S FORMS) into a basket, and see what is left on your shelves!!)
Consequently my mother gave up sugar 1 month after me. She saw a radical change in her arthritis, in her auto-immune disease and a consistent weight loss. Thanks to Pink Farming, she drinks Keffir daily, has started fermenting foods, and in general has returned to a way of preparing food the way she did when she was a young adult with children. It's ironic, that a lot of our "radical" lifestyle changes, are in fact just returning to the way our grandparents ate.
After seeing how well my mother was looking, my Aunty and Cousin started joining us at the Pink Farming workshops we attended, committed to giving up sugar and overhauling their own diets, and have not looked back. My cousin lost approx..17kg and is now at his goal weight, and has emphatically stated he will NEVER go back to eating sugar. My Aunty has seen a reduction in her Diabetes medication due to the improvement in her health, is fermenting foods regularly and eating healthily. Both of them are pensioners, so they are a positive example that eating well does not have to cost you more. The food journey that Pink Farming is sharing with us, their audience, is accessible for everyone, it's up to you what you take on board.
Speaking as a mother, you can get pretty overwhelmed by all the things we could be doing better for our children. But in the long run, your can only do your best, you can't do any better than that. I'm proud that I've made these changes in our lifestyle. However I couldn't have done it without inspirational people like Tanya and Amanda at Pink Farming, Sarah Wilson, and all of those other 1000's people who load our computers with awesome recipes and great blogs!!!! My mother inspires me every day, and she fed my sister and I an organic, healthy, sugar free diet when we were growing up, so it's wonderful to share my families food journey with her now. Thanks Pink Farming!! Leanne Godfrey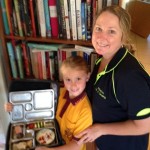 I have always loved cooking and own more cookbooks than I will ever possibly need but when it came to school lunches for my 8 yr old daughter I was always stumped. Bored. Ham and cheese sandwiches. So when I saw a workshop about school lunches I thought this was a chance to make a change. I had no idea who or what Pinkfarm was so it was a pleasant surprise to see Tanya and Amanda running the show. Everything they said resonated with me. From the Royal Breakfasts to the nutrient dense lunches – it all just made sense.
I grew up on a pig and cattle farm and my family own a meat whole sale company so our breakfasts never included cereal or toast. We always had leftovers for breakfast. Introducing a big breakfast to my own family met with little protest. I have always been a planner so the meal planning for the week was no hassle either. I bought Caitlin a Planet Box and we talked about the kinds of things she would like to see in her lunches. Now, she helps me pack her lunch and says that her lunch always draws a crowd at lunch break. Her lunches are now the envy of her friends and I love that she enjoys thinking and talking about what she is eating. We grow a lot of our own veges as well so she can pick a few bits and pieces from the garden in the morning to add to her lunch.
I also attended the Kefir Kraft and Fermenting Fun workshops and now Kefir is part of our every day ritual. Smoothies in the morning and cultured butter are favourites with our daughters. Our youngest will drink hers in seconds and then ask for more. We have fermented dilly carrots in the fridge and eat fermented veges with our breakfast and lunch each day.
It has been a pretty big change to our diet but we have seen improvements in our health. I have lost weight – probably the reduction in sugar intake helped with that too. I definitely feel that such huge changes wouldn't have been able to be sustained if it wasn't for the Pinkfarm girls posting lunch ideas, breakfast pictures and inspirational messages. I was kind of on my own with this journey so the Pinkfarm posts became my team in a way. Our family is only just beginning on our journey but I know it is the right path. My inspiration has come from the girls' saying "what we feed our kids matters, it matters a lot." Too right. Jenny Wadley
My Journey – I stumbled across PINKFARM midway through 2013, and both ladies ethos resonated so strongly with mine. I appreciate the way they do a lot of research and reading, so that we can skim across the bulk of the understanding if we don't have time right then to read. I have learnt so much about fermenting, about culture and cultures, and about my own body through great discussions facilitated through the FB community. I have had a lot of gut troubles, from leaky gut and spirochaetosis to a parasite running rampant in my bowel, all of which would not have been healed so quickly without the inner love of fermented foods, slow cooked broths, and REAL food! Cannot wait for the website to be running!!! Louise Mirschten
I'm an Accredited Practising Dietitian and also an avid fan of Pinkfarm. Ever since I discovered Pinkfarm on Facebook I have followed them with interest and realised I was becoming more and more intrigued by their delicious looking foods, their nutritious recipes, their royal breakfasts, their bone broths, their liver pates, their liberal use of butter and cream, their fermented foods and of course their amazing looking school lunch boxes. I realised these ladies were spreading good messages about food and health and these are messages that I also want to promote. I wish Pinkfarm well with their website, and I commend them for being pioneers in encouraging everyone to eat real food and for realizing the power of food to heal and promote health. Kate Rogers The Country Dietitian – www.countrydietitian.com.au