Mulberry Jelly Pie
This is a special seasonal treat. I am sure many of you have fond memories of hanging around the heavily fruiting mulberry tree eating as many mulberries as you possibly can. I have memories of Mum asking us to pick mulberries to make a mulberry pie. This job took forever as every second mulberry that got picked got eaten! We have created this grain free, gluten free, refined sugar free version of an old fashioned mulberry pie with the added goodness of gelatine (learn more about the benefits of gelatine here)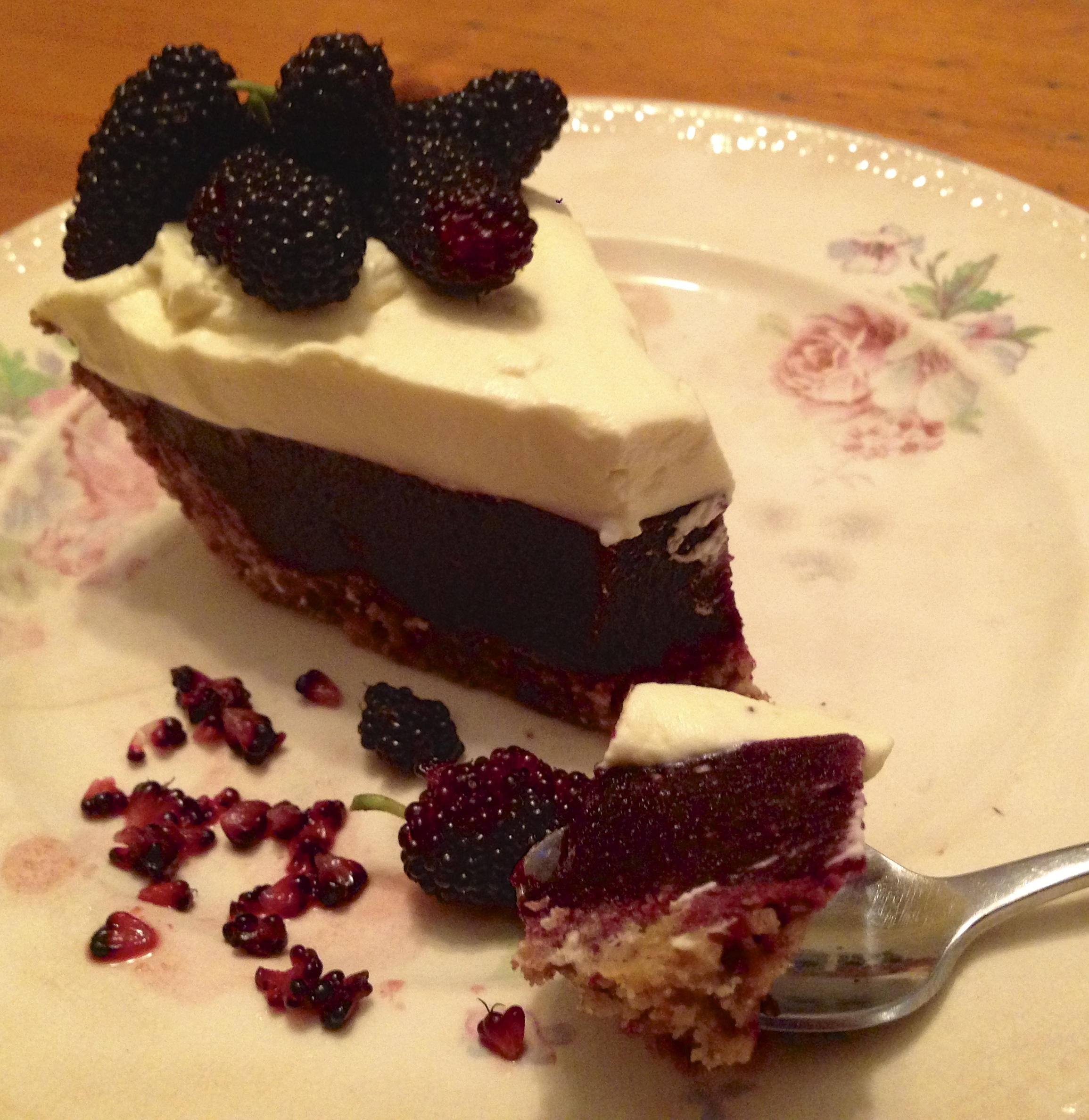 Mulberry Jelly Pie
2014-11-18 17:45:37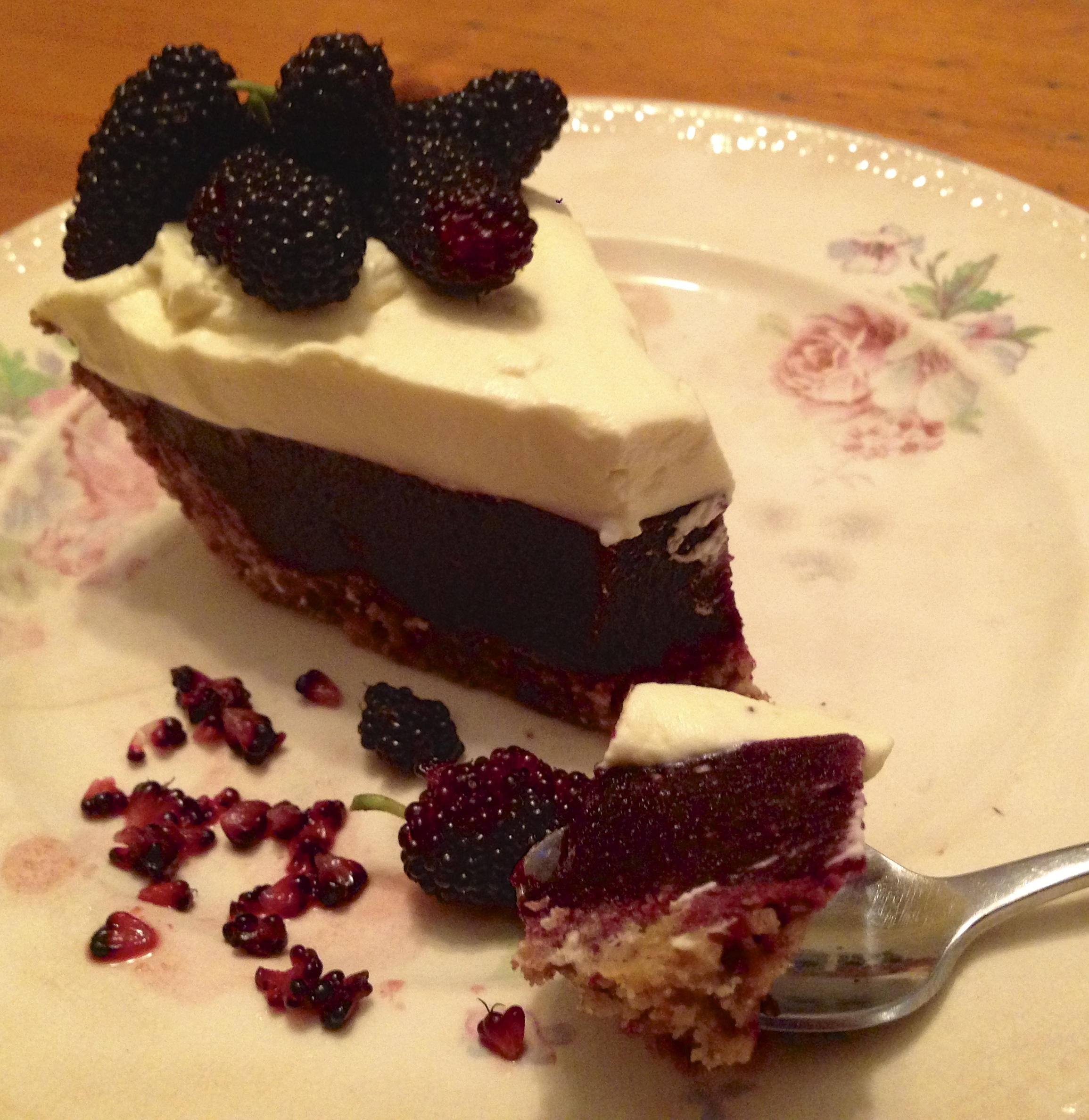 We have created this Paleo friendly grain free, gluten free, refined sugar, optional dairy free) free version of an old fashioned mulberry pie with the added goodness of gelatine.
Pie Crust Ingredients
1 cup of Activated Hazelnuts
¾ cup of Arrowroot flour
½ cup of Butter (or coconut oil) softened
¼ cup of Rapadura or Coconut Sugar
¼ teas. Sea Salt
½ teas Vanilla
Mulberry Jelly Ingredients
1kg of fresh Mulberries
100g Rapadura or Coconut Sugar
1 cup water
4 tabs. Great Lakes Gelatine
100g Maple Syrup
½ cup cold water
1 cup of Boiling water.
Directions for Pie Crust
Grind nuts to a meal in Thermo-mix or food processor.
Mix in sugar, salt and arrowroot.
Add chopped butter and blend gently in processor or Thermo-mix until just combined. This will form a nice soft biscuit type dough.
Grease a 20cm pie dish with butter. Press dough into pie dish covering bottom and sides.
Bake in mod. Oven (180c) for about 20 to 30 mins, until golden.
Allow to cool on bench and then place in freezer or fridge to chill right down.
Directions for Mulberry Jelly
Place mulberries in saucepan with sugar, and water. I don't bother trimming stems for this pie as it blends up really well in thermo and you don't even notice them in there.
Bring to the boil and simmer for about 1 hour until mulberries soft.
Blend well in thermo or food processor until really smooth.
Add Maple Syrup and mix through. Set aside. (You may like more or less sweetener depending on the sweet/sourness of your mulberries and whether you like a more tart flavour or not. You might like to consider having it sweeter than you like as when it sets as a jelly it generally loses some sweetness)
Add gelatine to half a cup of cold water and stir to a paste.
Add 1 cup of hot water to gelatine and mix until smooth and gelatin dissolved.
Stir dissolved gelatine into Mulberry puree.
Assemble Pie
Pour Mulberry Jelly into cooled pie crust & place in fridge until set. May take a couple of hours.
Top Pie with whipped vanilla cream or coconut cream (for dairy free version)
Pinkfarm http://www.pinkfarm.com.au/